Digital Marketing Strategist & SEO Expert in Bangladesh – Shahriar Hasan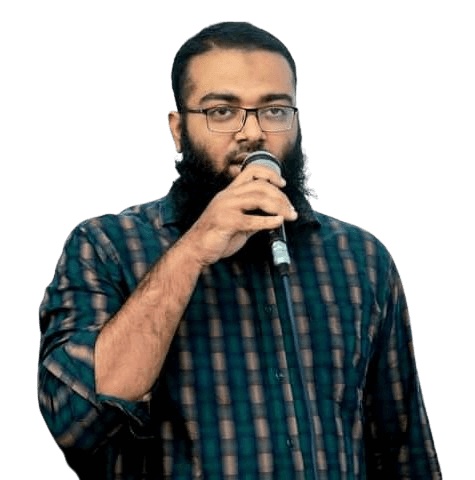 Shahriar Hasan Sornob
Freelancer | Affiliate Marketer | Mentor | Service Provider
Shahriar Hasan Sornob is a professional Digital Marketing Strategist and SEO Expert in Bangladesh. Since 2017 he is actively involved in the Digital Marketing industry.
His extensive specializations are Digital Marketing Consultancy, Search Engine Optimization, Content Marketing, Social Media Marketing, Email Marketing, Video Marketing, Google Analytics, Google Ads & PPC campaigns, etc.
Shahriar Hasan is one of the best Digital Marketing strategists in Bangladesh. He has completed several projects and made the customer very happy. His unique style and implementation of recent trends are the fuel for completing projects.
Shahriar Hasan is also the Founder and Developer of shahriarhasan.com, a fascinating SEO agency in Bangladesh.
Educational Background
He had completed his graduation and an MBA from the Department of Tourism & Hospitality Management, University of Dhaka.
Jobs Involvement as a Digital Marketer
Currently, he is involved in Digital Marketing and delivering a high return to his customers. In 2019 he started his career as a digital marketer at a renowned travel agency in Bangladesh. Later, in 2020, he joined Ultima Bangladesh, a top Water Purifier company in Bangladesh. In 2021-2023 he was involved as a Digital Marketing Mentor & Specialist at CodersTrust Bangladesh. Currently, he works as Digital Marketing Strategist at weDevs.
I have provided Digital Marketing Consultancy, Skill Development Training, Corporate Training, Project Completion, Guest Speaking at Universities, etc. A dedication to excellence and a genuine desire to expand Bangladesh's digital footprint were the driving forces behind my journey. As I stand here today, I am not just Shahriar Hasan but a representative of the transformative power of digital marketing in our rapidly evolving world.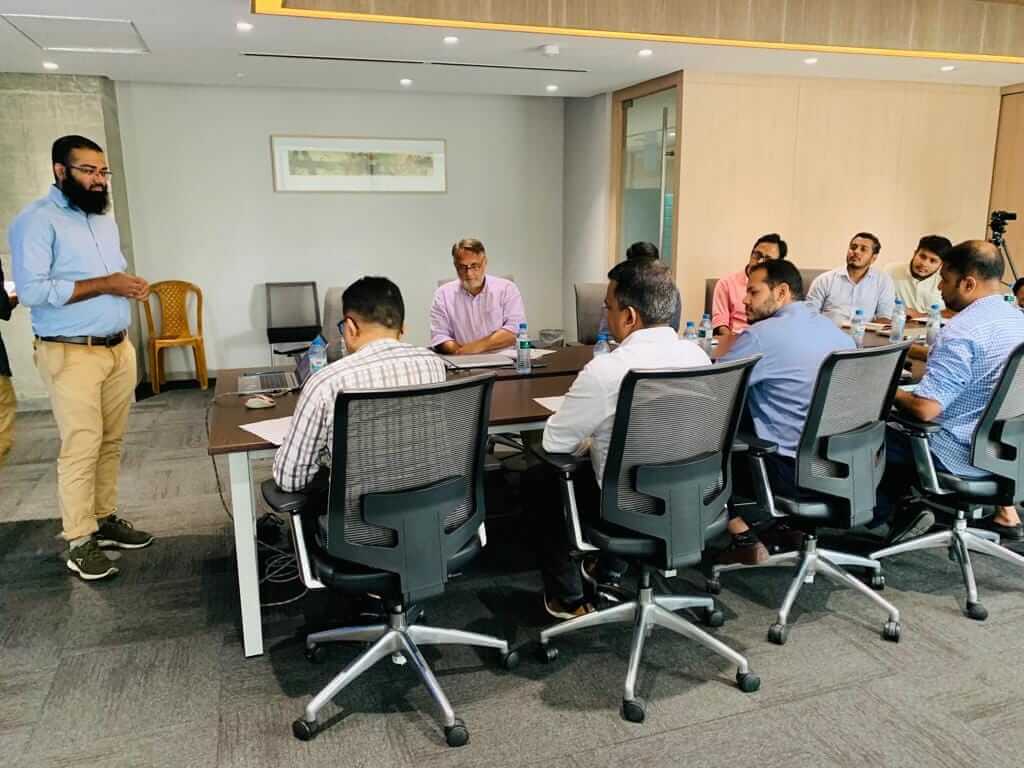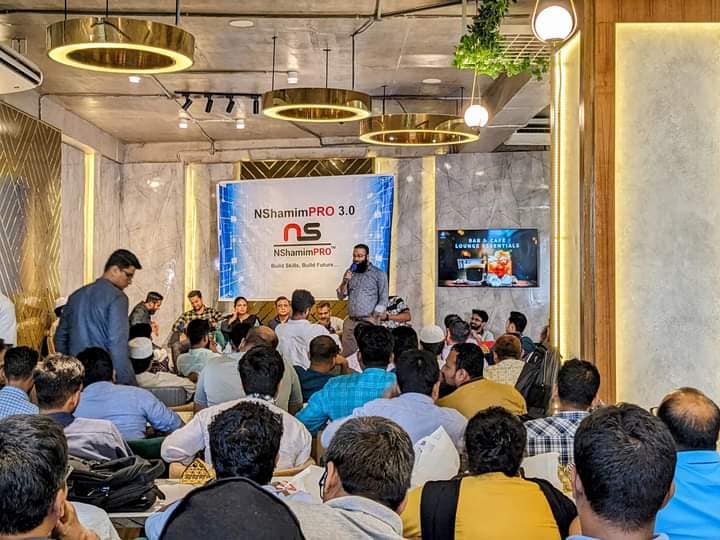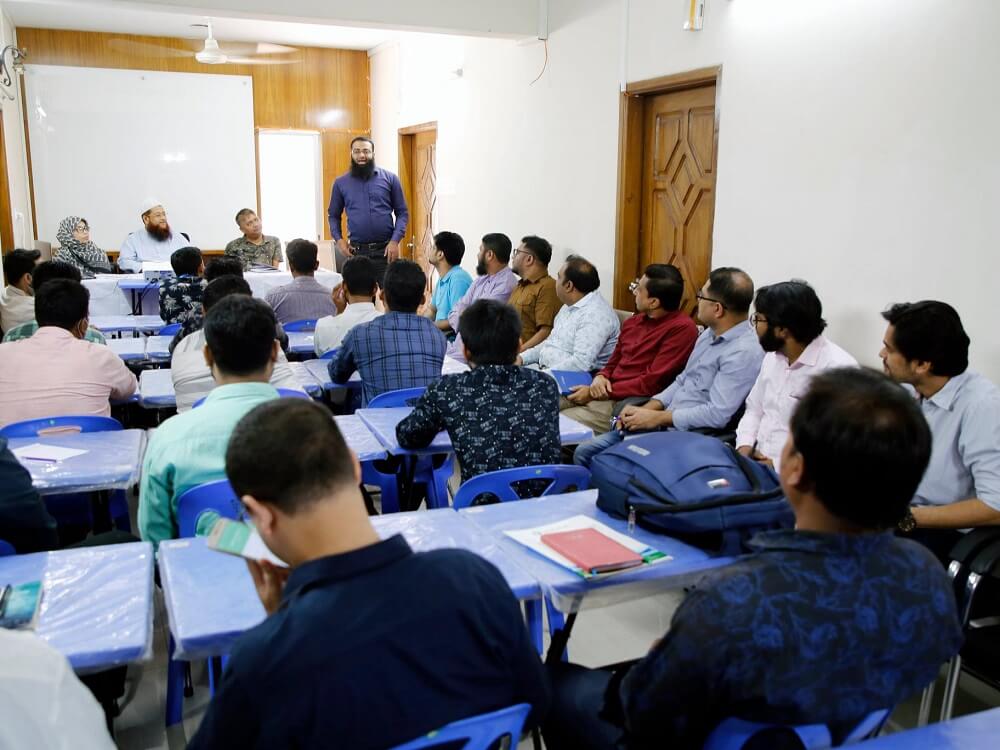 Corporate Branding Discussion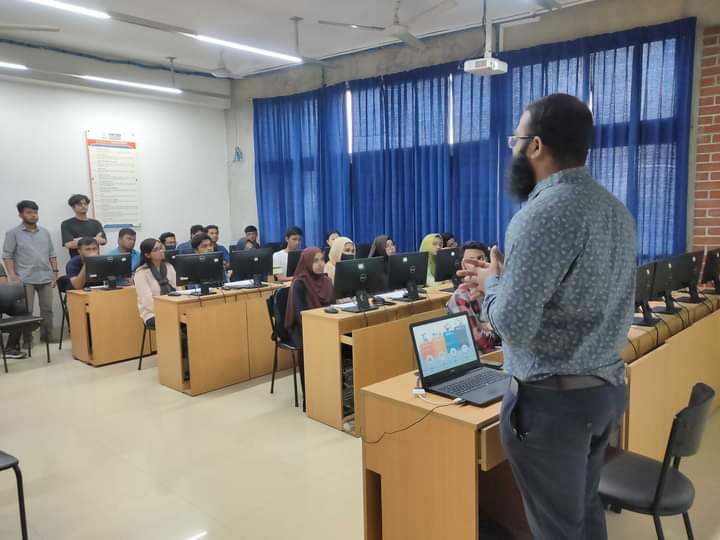 Guest Speaker at University 
How I Become Digital Marketer? 
I started my journey as a digital marketer by taking several courses from BITM, Skill Hunt, Prime IT, and other online platforms in 2017 and 2018. These courses provided me with the fundamentals of digital marketing and the latest techniques used in the industry. I then put my knowledge into practice by taking orders from Fiverr, which allowed me to gain hands-on experience in the field.
In 2019, I landed a full-time digital marketer job, which gave me even more opportunities to hone my skills and gain practical experience. Working in this role allowed me to work on various projects and learn from experienced professionals in the industry. I could apply the knowledge I had gained from my courses and freelancing work to deliver successful marketing campaigns for my clients.
In 2020, I established Backend Digital and started offering 360-degree digital marketing solutions. This allowed me to provide comprehensive services to my clients and help them achieve their marketing goals. My experience and expertise in the field have helped me to establish a reputation as a reliable and effective digital marketer, and I continue to grow and expand my business.
Success Statement
Most of the time, big organizations struggle to get specialists for Digital Marketing. This could be a direct result of different reasons like – the absence of information, spending imperatives, and past terrible Digital Marketing employment experience. The ideal way out of the present circumstance is to enlist one nearby Digital Marketing Expert or specialist (Freelancer or an advisor from an organization). Enter your business into the digital ocean; otherwise, your business will sink into the pond.
Becoming a Digital Marketing specialist demands dedication and effort concerning your capability. You need to be constantly updated with the hottest trends to come up with new tactics to raise your abilities; building your livelihood is the thing that sets your course apart as a professional.
About Backend Digital
The Digital Marketing industry is the most advanced globally, particularly in Bangladesh, and consequently, there are some Expert Digital Marketing strategists in Bangladesh. Backend Digital is a top internet marketing agency with Bangladesh's best Digital Marketing services. Backend Digital is an innovative Digital Marketing agency in Bangladesh that was established in March 2020. It has served many business organizations like Saifurs, Icon Plus, High Tech Web Dev, Aidah, Arona International, CodersTrust, Ummah BD, Ejteehad, Essil Interior and Furniture, I Corporation, etc. 
Backend Digital is operating its business by maintaining a virtual office, and We have an expert digital marketer, web developer, graphic designer, and content writer. The primary services we offer, Social Media Marketing, Search Engine Optimization, Email Marketing, Google ads, Content writing, graphic design, Web Development, etc.
Professional communication, accurate reporting, analyzing data, and committed service are the key to success. If you are looking for the best Digital Marketing Strategist in Bangladesh, then you are in the right place. 
Passionate team, significant results
Backend Digital is an innovative Digital Marketing Agency based in Bangladesh. Our digital marketing and web solution for small and medium businesses has grown us into a full-service digital marketing agency.
Backend Digital has some passionate team members. The experienced Digital Marketing Strategists and SEO experts in Bangladesh are serving the clients cordially.
Our mission is to provide the highest quality services considering the recent trends and market demand to our customers. Our customer-focused mindset has provided the best service and support in the relevant industry. Surely we build mutually beneficial relationships with our clients that provide a win-win situation.
What We Value
Customer Experience
Client experience is paramount in Backend Digital; it advises everything; for the very first time, you're subjected to our news for years from now when we're still supporting and advertising your small business.
Quality Function
Every job we take on is just another opportunity to show our dedication to delivering the very best solution. We work hard to create the most advanced and professionally designed sites. All our sites are hand-crafted from beginning to finish by the hard-working staff in Backend Digital.  All of our projects had been completed accurately and these results are visual in the search engines. 
Customer Success
We like getting to know each of our customers and invest ourselves in their success. We do not just build sites and provide some digital marketing services but we construct relationships that yield outcomes. Though we are active in Digital Marketing, satisfied customers are providing word-of-mouth publicity too. If they recognized us as the best digital marketing strategist in Bangladesh then our marketing goals are at the pinnacle. 
Education
We work to create ourselves and others about us better by simply swallowing knowledge and sharing it with workers, clients, vendors, competitors, and the general public. Learning never stops, and we push ourselves to remain at the forefront of technology, be revolutionary, and enhance every job. We also provide some necessary teaching and guidelines to customers so that they can survive better. 
In final words, We believe accuracy, experience, expertise, and commitment. Yes, we have the best digital marketing strategist and SEO expert in Bangladesh.